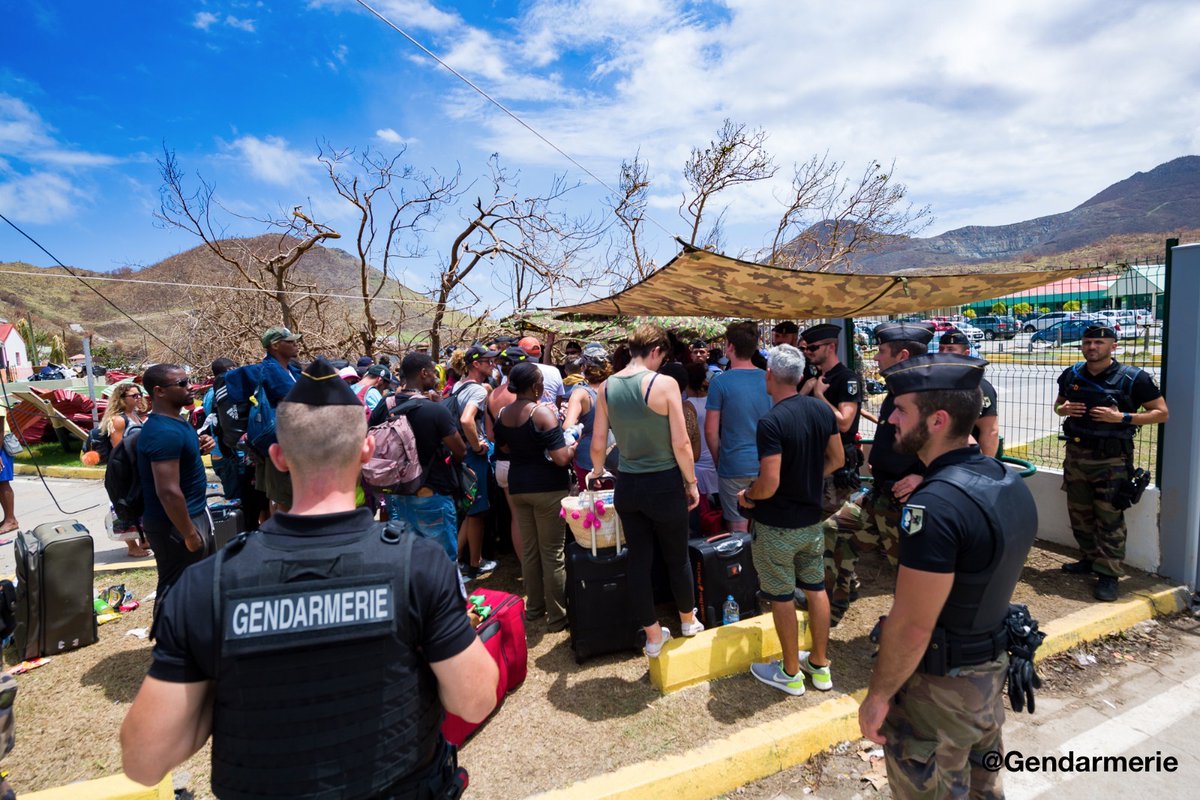 Reports of Demise of St. Martin (French Side) Have Been Greatly Exaggerated – #RebuildSXM
If there's one thing I've learned through all of this — that is, watching events unfold on Saint Martin/Sint Maarten after Hurricane Irma — it's that everyone handles things differently. Disasters like this aren't something people can ever prepare for. So, the only thing we can do is come together as people, support each other, share, love, promote peace, and help one another.
I've been waiting a while to write this post. I have seen many conflicting reports coming from Saint Martin — the French side of the island — but I had to wait to get more reliable information before I could write something myself.
Today, I spoke with a resident and small business owner on Saint Martin, Tanya Marius. I first met Tanya when we stayed in Grand Case at the Bleu Emeraude Hotel. She was related to one of the girls who worked at the front desk and helped watch our two small kids while my wife and I went to dinner in Grand Case at one of our favorite restaurants, Le Pressoir, for our birthday (my wife and I actually share the same birthday!).
What Tanya told me today was a far cry from some of the rumors I'd been reading of total chaos, anarchy, lawlessness in St. Martin and that the island was on the verge of civil war. As expected, she said that St. Martin has endured horrific devastation caused by Hurricane Irma.
In addition, there had been looting and isolated violence all over the island in the days that followed the hurricane. People were without electricity, without phone service, without any means of communication with the outside world. It was as isolated and frightening as it sounds.
"The entire ground was shaking, like an earthquake," Tanya told me. "We had to hold the door with our hands and bodies against it as it bowed in, trying to stop it from tearing off the hinges."
In addition to sharing the hardship caused by the storm, Tanya also gave me good news. She told me that the entire community is coming together, there are places with electricity back (already), internet service is being restored and cell service is coming back too. "Families and neighbors are sharing food and water," she mentioned. "But we cannot blame the government for a natural disaster."
The destruction of the storm equally damaged both sides of the island, French and Dutch. No building was left undamaged and most endured catastrophic, irreparable destruction. That much is certainly true.
I've heard countless stories about the terror, the utter despair, caused by this storm. And the seemingly endless stream of pictures of the destruction are inescapable. Our friends and family that were on St. Martin during Hurricane Irma experienced the worst.
When a disaster like this hits, the last thing we want to do is make things worse or cause more panic among people. Unfortunately, that is what happened.
There were stories written by reputable publications that used extreme language to describe the situation on the French side after the hurricane hit. They described horrors, the complete collapse of the society, things being in total chaos, rumors that the death toll was much higher than had been reported. There were people saying that the French government had abandoned their citizens and left them to rot.
We now know that is unequivocally not true.
Even worse, imagine having a loved one on the island and reading those descriptions. Of course you would be horrified, terribly in fear that there was no escape from this situation. And, to be fair, there were videos and descriptions in social media from people pleading with the outside world, describing a situation they could never make it from alive.
But what we must do — as people who are not in that situation on the island, as people who did not go through that trauma, as observers — is we must use diligence and judgment before we declare to the world that things are in anarchy. We must accept responsibility for the positions we find ourselves in, a position of readership, a position of influence of public opinion. We must be responsible with our reporting.
The situation on the island, as described by Tanya and many others to me, was awful and frightening. It is not to be made light of, but it also was not completely out of control and should never have been reported as such.
The French side of the island is well on its way to recovering from this terrible storm. Together we can and will help them rebuild the island. Donate today to make a difference.
#SaintMartin #Irma Un engagement exceptionnel dans un contexte difficile ! La #GendarmerieEnOpération au plus proche de la population pic.twitter.com/XJM7JyjVWO

— GendarmerieNationale (@Gendarmerie) September 11, 2017
À bord de l'A400M vers Saint-Martin, optimisation de l'espace. pic.twitter.com/AczyitrMio

— État-Major Armées (@EtatMajorFR) September 11, 2017
Embarquement de 12 tonnes de fret humanitaire dans l'A330 présidentiel à destination des populations de Saint-Martin et Saint-Barthélemy. pic.twitter.com/2klByV7RxW

— État-Major Armées (@EtatMajorFR) September 11, 2017
L'A400M a rejoint Saint-Martin. À son bord : des soldats du 33eRIMa, 2 camions et 6 tonnes d'eau et de rations. pic.twitter.com/w99LCxC7wZ

— État-Major Armées (@EtatMajorFR) September 11, 2017