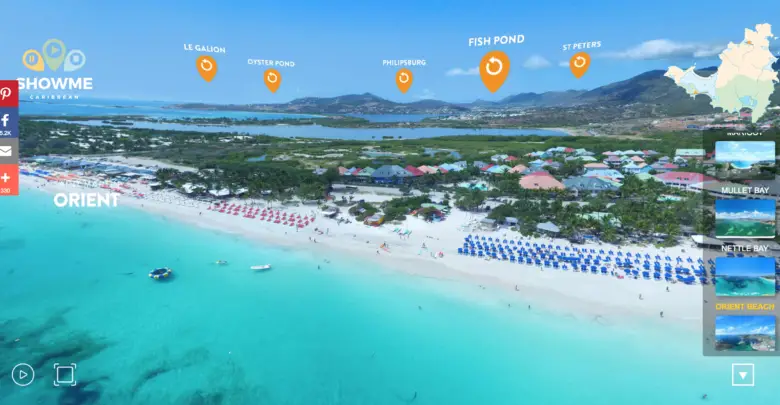 SHOWME Caribbean Set to Release Post-Irma 360 Degree Imagery of Entire Island of Saint Martin
I'm always amazed when I stop and think back to everything that's transpired since September 6, 2017. That day, I started an incredible personal journey, right alongside many others that were impacted by hurricane Irma. That journey continues today, and it's impacted my life well beyond anything I could've ever imagined back in September.
As we move further and further from that fateful day, I've put a lot of emphasis and work into covering and promoting the incredible efforts, recovery and continued needs of the communities on the island of Saint Martin. The recovery has been incredible to watch, and I've been blessed to be able to travel to the island and witness everything firsthand on several occasions this year.
Bottom line is, there's a lot to be excited about and look forward to on Saint Martin. And while seeing the incredible recovery myself has allowed me to share a lot with you by writing about it and publishing videos here on SXM Strong, that's still no substitute for the experience of you being able to see it all yourself.
The great news is, there is about to be a very dynamic solution. That solution will be coming to you soon from SHOWME Caribbean, a company that produces engaging, interactive, internet-based tours using 360-degree imagery, videos and virtual reality to showcase popular vacation destinations.
The SHOWME team was on Saint Martin just last week, shooting footage that they'll be using to create the most comprehensive, post-Irma imagery released to date of the entire island. Even though I've visited, I still cannot wait to see these images of Saint Martin. I expect it to be an emotional and inspiring experience.
If you'd like to get an idea of what to expect, you can check out the interactive tour of Saint Martin that was completed by SHOWME Caribbean prior to Irma (click here to see that). In addition, we'll be releasing a short video tomorrow using footage captured of the island last week.
I'm hoping you clicked on the aforementioned link to the SHOWME Caribbean tour of Saint Martin (if not, there's your second chance). If you did, chances are very good that you, like me, were in awe at just how stunning that tour is. In fact, everything I've seen and learned about SHOWME Caribbean has inspired me, on a personal level. Inspiration can be an amazing thing.
That inspiration has turned into a formal partnership between SXM Strong and SHOWME Caribbean. This collaboration allows us both to stay aligned in our goals to help promote Saint Martin alongside the entire Caribbean. It's an exciting opportunity that will allow us to combine resources and come together to showcase the progress and recovery happening on the island.
Of course, there will be more details released as they become available. For now, we want to let you know that we will continue to do all we can to show the world the beauty and transformation of this island we love so much.
Please help support our efforts to restore and rebuild the local economy on Saint Martin. Click here to visit the SXM Strong donate page today!