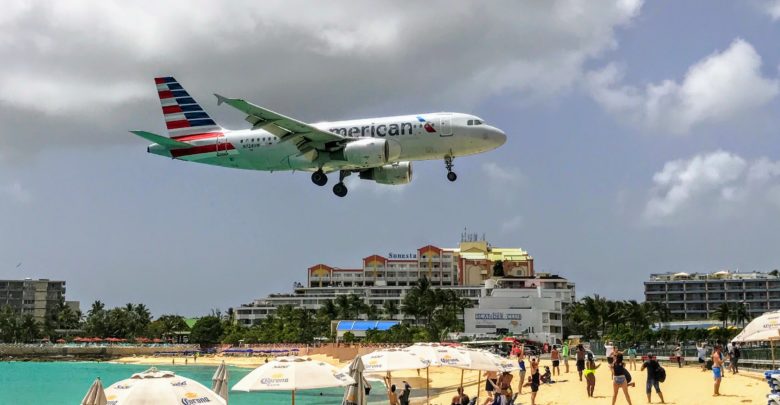 International and Regional Carriers Provide Target Dates to Resume SXM Commercial Service
Anyone who has ever been to Sint Maarten has also very likely been to the world renowned Maho Beach. Every time we go to the island with our family we always spend one afternoon watching the planes zipping over our heads and enjoying ice cold beverages at Sunset Beach Bar.
As you can see, our son loves watching the airplanes float by while nibbling on some french fries!
Holding a french fry, waving at an airplane at #MahoBeach from @sunsetbeachbar. Amazing memories #StMaarten!! #RebuildSXM #SXMStrong pic.twitter.com/UamXrnT2ti

— SXM Strong (@SXMStrong) September 27, 2017
Of course, everything has changed at Maho Beach. The last photo I saw (below) there was no sand, only big rocks, on the beach. Not to mention, Sunset Beach Bar sustained some major damage as well.
Upon the directives of His Majesty King Abdullah,an RJ aircraft lands in the Caribbean Island of Saint Martin to evacuate Jordanian citizens pic.twitter.com/odRZw35ye7

— Royal Jordanian (@RoyalJordanian) September 18, 2017
There have been several airlines that have provided updates that include target dates to resume service to SXM. As you can imagine, St Maarten will get service from regional carriers before most international carriers resume their service to the island.
Here are the updates I have so far. I'll provide further updates as I get them.
KLM Airlines
For a short time, KLM will no longer offer direct service between Amsterdam (AMS) and Sint Maarten. Beginning October 29, 2017, they will fly AMS-CUR (Curaçao). The airplane will depart CUR and stop at SXM. This flight will be offered twice weekly and will replace nonstop AMS-SXM service that was offered four times a week. They expect to resume direct service at some point in the near future.
KLM has confirmed short-term routing change for St. Maarten service from 29OCT17, previously reported on Airlineroute

— Airlineroute (@Airlineroute) September 27, 2017
Air France
Service offered by Air France will resume on October 29, 2017. There will be nonstop flights between Paris (CDG) and SXM two times a week.
American Airlines
American Airlines will reportedly resume service to SXM as soon as the airport reopens. They are currently selling seats on flights beginning October 5, 2017, but I have not seen any indication that the airport will be open by then. Hopefully.
Copa Airlines
Copa announced back on September 12, 2017 that they would resume operating to SXM beginning December 31, 2017. At this time, that's all the information I have regarding Copa's service so I assume it's remained unchanged. I've inquired with them and will update you when/if I hear back.
WestJet Airlines
WestJet also announced on September 12, 2017, that they would resume service on October 29, 2017. I thought that might be off, so I checked with them and they confirmed that they will resume service beginning April 26, 2018.
We aim to resume service to SXM on April 26, 2018.

— WestJet (@WestJet) September 27, 2017
Insel Air
Insel is ready to resume operations as soon as Princess Juliana International Airport is ready to open. They've been cancelling flights every few days. The latest flights they've cancelled were originally scheduled for this coming weekend.
Winair
Winair's facilities were badly damaged during Hurricane Irma. They're working to get everything back up and running, from corporate facilities to their airport operations facilities. They've provided over 60 relief flights since the hurricane hit.
Winair is in the process of reintroducing limited flights to Saba, St. Eustatius, St. Barth, Antigua and St. Kitts. They're hopeful that will happen by October 1. If that happens then I'm assuming that means Princess Juliana International Airport will be open in at least a limited capacity. That'd be great if it happens by this weekend.
Tortola, Guadeloupe, Dominica and San Juan will be added once facilities and all approvals are granted for resumption of service. They are also working to start St. Maarten – Curacao – St. Maarten service to allow the public to connect with carriers serving Curacao, and will resume service to Haiti as soon as possible.
Winair has secured office space in Philipsburg to provide sales and reservation services to the public, and is expected to open on Wednesday October 4.