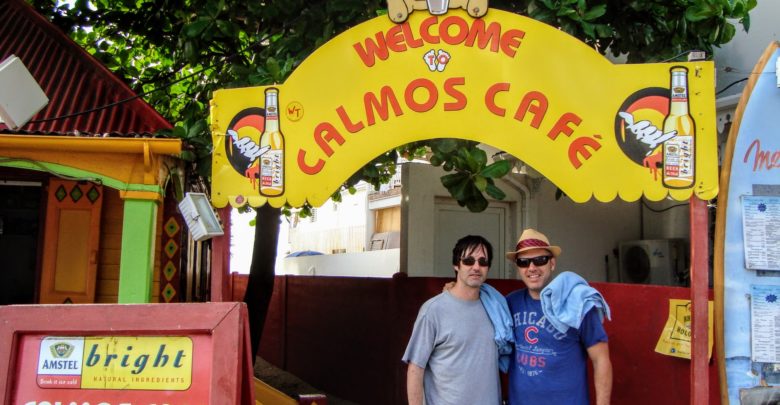 And the Best Beach Bar on Saint Martin is…
Here are my favorites, what are yours?
There is no shortage of awesome beach bars on Saint Martin, and they're all unique and pretty darn cool in their own way. Now, of course, quite a few of those beach bars were torn to pieces by Irma. Places like Calmos Cafe, Mr. Busby's and even Sunset Beach Bar. While the former has started to recover, the other two still have quite a ways to go to get back to their glory days.
With that in mind, for this exercise we're going to include all the beach bars, both pre- and post-Irma. And while I'd love to tell you what the best bar is, I think that you, the readers, should be the ones to name the best beach bar on Saint Martin.
I'll throw out a few of my personal favorites below, along with some pictures and a video for each bar. It's up to you to complete the list by either voting in the poll below or adding your favorite in the comments at the end of the post. Don't see a bar you love? Leave a comment. Totally disagree with my favorites? Leave a comment. After all, this is your list. Once I gather all the input, I'll publish the results.
So slap on your swimsuit, grab an ice cold drink, and have fun!!
Favorite Beach Bars
I'll put my favorite beach bars in order, based on my personal preference. Of course, this will be different for everyone but I'll try to explain what I like best about each bar.
Calmos Cafe
Calmos is hands down my family's favorite beach bar in Saint Martin for a variety of reasons. First, the sunsets at Calmos are incredible. Our preferred time to go to Calmos is around 3 or 4 in the afternoon. We usually grab a beer or piña colada, some fish fritters, and swim with the kids as the sun slowly sets in the distance.
The beach is great for the kids, since the water is so calm and shallow. And the staff is always very friendly and accommodating. That and we have an affinity for Grand Case. We discovered it years ago and always come back. And our favorite restaurant, Le Pressoir, is right next door to Calmos.
Rainbow Cafe
Rainbow Cafe, like Calmos, is located along Boulevard de Grand Case and is on Baie de Grand Case overlooking Anguilla. Rainbow feels a little more like a restaurant than a bar, but there are lounge chairs and umbrellas on the beach during the day.
My family and I have only been to Rainbow a couple of times, but it's a wonderful place. First, it has it's own parking lot, which is a rarity for any bar or restaurant along Boulevard de Grand Case. It's small, but if you get there at the right time, you can always find a spot. And the people who work there are extremely friendly and great with kids.
Captain Frenchy
Captain Frenchy is another shining example of a wonderful little beach bar overlooking Baie de Grand Case. Are you starting to notice a trend? Yes, we love Grand Case. It's never crowded, there are great beach bars, the restaurants are world class and plentiful, there are lovely boutique hotels — like Bleu Emeraude, Le Petit and Love Hotel — and it's all within a short walk along a beautiful, calm beach.
One of our favorite hotels is Bleu Emeraude, and Captain Frenchy is stumbling distance from the hotel. Captain Frenchy's has the vibe of an old school beach bar, nothing fancy just a nice place to hang and enjoy the day. They also have a bocce ball court in the front of the bar, in case you get tired of the fantastic ocean views, or just want to change it up.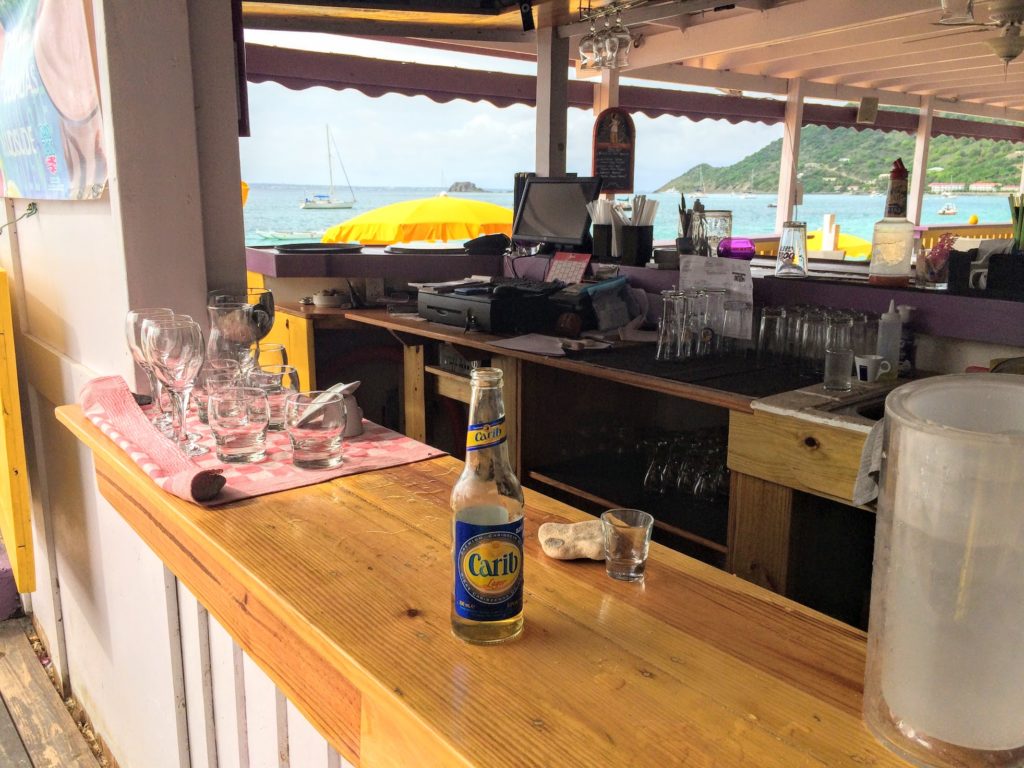 Pedros
Pedros was a wonderful little place on Orient Beach that we came across several years ago. We were there on on birthday — my wife and I share the same birthday — and the musician sang a wonderful raggae version of 'Happy Birthday'.
The views from Pedros are incredible, spanning all of Orient Bay. If you've never been to Orient Bay, chances are you've never been to Saint Martin. And the food at Pedros is a wonderful French Creole style. I always get the grilled chicken with beans and rice, and it's amazing!! And one thing I did not realize is that Pedro's was apparently the first beach bar on Saint Martin, per Caribbean Journal.
Sunset Beach Bar
No Saint Martin beach bar list would be complete without naming Sunset Beach Bar. I've noticed there are a lot of opinions around the island about Sunset, but one thing that can't be topped is it's glorious location on Maho Beach. There's no bigger thrill than watching monster airplanes glide over your head while sipping on an ice cold beer.
Sunset Beach Bar has grown a lot in recent years, it started out as a modest little bar on the side of the beach. But it's grown into quite a tourist attraction, so to me, that definitely takes away from the setting. And there are times when Maho Beach is just way too packed to deal with. But if you go in the off season, it's usually much more manageable. That and Driftwood Beach Bar, a favorite among locals, is just on the other side of Maho Beach if you want to escape the commercial feel of Sunset.
So that's my list. What do you think? What's your favorite beach bar on Saint Martin? You can vote below or add your own beach bar in the comments. I'll tally everything in a week and let you know the results.
Loading ...