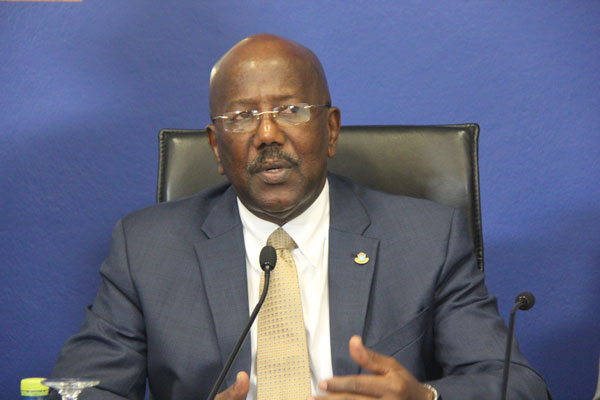 Prime Minister William Marlin Speaks, Sint Maarten Under State of Emergency, Curfew in Effect
Tonight on Laser 101 FM, the Prime Minister of Sint Maarten, William Marlin, spoke to the people for the first time since Hurricane Irma hit the island.
He discussed a number of topics but his first point of order was to talk about the mindless looting that has been occurring on the island, noting that it's "general human behavior" that happens in times of turmoil.
The topic of looting turned to tougher talk about the curfew that is now in place. He added that the Emergency Operations Center (EOC) held a meeting today and has officially declared a state of emergency in Sint Maarten. The curfew is officially 6 PM every night until further notice and will be strictly enforced beginning Friday evening.
Prime Minister Marlin stated, "The law will be enforced, we cannot have lawlessness any more." He went on to further emphasize the importance of being able to put the past lawlessness behind us, noting, "The destruction to the island is catastrophic." He was passionate that the island will bounce back but pointed out that it will take an all-hands-on-deck effort.
Until further notice it is mandatory for all citizens that are not part of the relief effort to stay in their neighborhood area and not leave unless instructed. People should not go to check on family and friends but rather, stay tuned  to Laser 101 FM for updates and news. The Prime Minister said that he will be speaking to the country on a regular basis from the station, with his next address tentatively set for Friday at approximately 2 PM local time.
All of these steps are being taken for the safety of the people.
Prime Minister Marlin also mentioned that the King is very concerned and intends to visit the island "sometime next week." The PM has suggested to the Kingdom that a reconstruction coordinator be assigned to and stationed on the island – someone with the power to make financial decisions and who has "the checkbook." He added, "We need financial assistance to get us going but, more than anything else, we need the resilience of all the people of Saint Maarten, we need to come together, show community spirit and community effort."
He went on to mention that Hurricane Juan — which the island is officially under a hurricane watch for — is coming Saturday evening and the island will likely be experiencing at least tropical storm-force winds and substantial rain.
Certain areas in various districts around the island will be designated to store wreckage from the hurricane. The plan is to first clear the streets of wreckage and debris so that emergency vehicles can make their way to residential areas and begin pick up of debris on personal property. He called for the clean up effort to begin immediately and, where possible, for people begin to organize materials for removal.
He also said that there is ample water on the island. G.E.B.E. will organize the distribution of water and circulate to each district with water trucks shortly. They will announce tomorrow when they will start to distribute the water, which is non-potable. While there is ample drinking water on the island, more will be coming from humanitarian efforts over the following days.
There will also be flights arriving to take tourists home. More information will be released as soon as it is known. A crew cleaned the SXM airport runway and the first flight will arrive tomorrow with military assistance, including medical assistance. The Belair Community Center will also become a makeshift hospital to treat stable patients.
The Prime Minister finished by saying, "We have lost a lot, but this time around we have lost no lives." Adding, "Let us put the lives that were spared to good use, collectively, to move this country forward."
Here is the full audio clip: