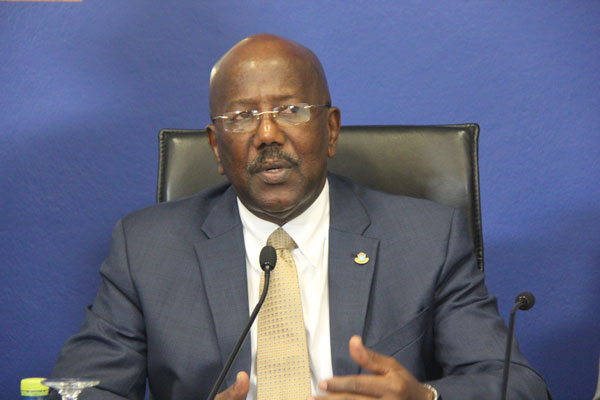 Prime Minister Marlin Announces Cruise Ship to Bring Supplies, Evacuate 300 U.S. Citizens Tomorrow
If you haven't heard, Hurricane Jose has passed and the island of St. Maarten/St. Martin is now in the clear. The process of rebuilding the island we all love so much can now kick into full gear.
Prime Minister William Marlin swung by the studio of Laser 101 FM just a short while ago to provide another update. He starts his comments addressing a caller to the station who had called in and was on air just before PM Marlin went on.
The caller had the audacity to attempt to blame the looting on the government because "they just stood by and let people take things." He justified the thefts by saying that if his neighbor came home with a new TV, and he knew he could go take one too, then why wouldn't he go do that?
I know why. Because that's stealing.
Needless to say, his comments were totally ridiculous and the Prime Minister wanted to first address that, which he did. After addressing the ludicrous comments in a rather spirited manner, the Prime Minister went on to give brighter news.
Tomorrow, Royal Caribbean will be sending a cruise ship that will dock and provide relief supplies for the island. It will then take 300 U.S. citizens on a six-day tour with stops at to Curaçao and Aruba, as well as a couple of days at sea before docking at San Juan, Puerto Rico.
The Prime Minister then joked, "Their vacation will take a different turn, rather than spending it all on Sint Maarten you will have had a hurricane adventure. You can definitely share with your family that you have outlived a category five hurricane, and after that you had a beautiful vacation still at the end of it all."
He emphasized that no U.S. citizens should call to find out about the ship, that the government knows where people are, and they will come get them.
The government will make another announcement either tonight or tomorrow morning, and will coordinate who will be taken on the boat.
Those were the extent of PM Marlin's comments.
While he didn't touch on it, there were several flights that evacuated U.S. citizens off the island earlier today. I can only assume those efforts will continue tomorrow but I do not have any details on that yet. You can read the latest update from the U.S. State Department here.