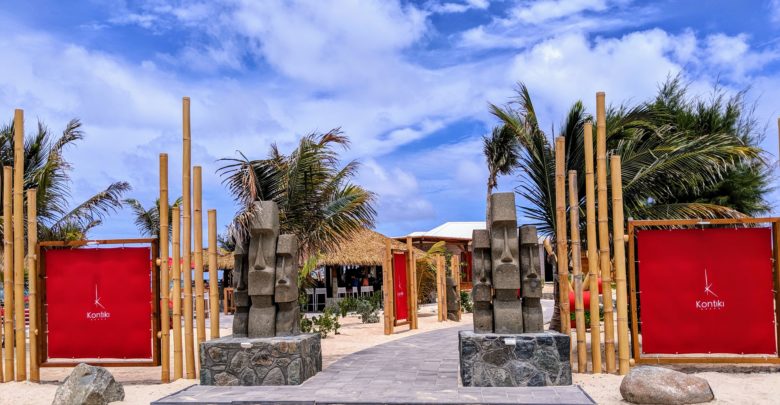 Orient Beach Update – Nearly Two Years After Irma: Kontiki Beach Bar and Restaurant
Nearly two years after hurricane Irma hit Saint Martin, Orient Beach is bouncing back quite nicely. Mother nature has a way of purifying things and, as painful as that process may be to mankind, things almost always end up coming back together. One look around Orient Beach and there's no doubt that's the case.
What was once a jam-packed beach lined with beach bars and restaurants is now a beautiful, wide open, and stunningly upgraded experience. It's strange to think of it that way, but the rebuilding bars and restaurants have done an exceptional job of putting in highly quality workmanship beautifully packaged on one of the most wonderful beaches in the world.
There are three restaurants open right now on Orient Beach (excluding the clothing optional side). I'll start by showing you the first, Kontiki Beach, as you walk north away from the clothing optional part of the beach.
You'll notice, as with all three of the establishments, no expense was spared in creating beautiful open spaces to relax and enjoy the day. If you enter from the parking lot, there is a beautiful walkway as you approach the bar just to your left. Straight ahead is the beach, where you'll certainly be instantly drawn.
I love the natural wood that Kontiki used on the bar. Just a really nice touch. The outdoor showers are a great place to clean up if you need to beach it and then head straight out to dinner. The bathrooms are roomy and redone nicely as well. But don't take my word for it, check it out in the video below!
Could you hang out here all day? I know I did!