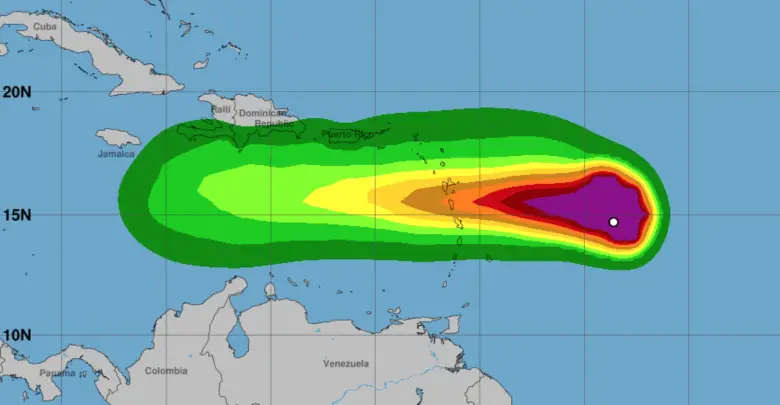 Isaac Continues to Weaken as it Tracks South of Saint Martin, Tropical Storm Watch in Effect
Isaac continues to track to the south of Saint Martin and has remained a tropical storm that continues to weaken. As you can see from the National Hurricane Center's wind speed probability map (below), Saint Martin currently has around a 5-10% chance of being impacted by tropical-storm-force winds (1 minute average>=39 mph).
This storm has remained on the same track for the last few days (update one here, update two here) and appears to be following prior forecasted paths. That's relatively calming news for Saint Martin, as it appears that the current forecast has the storm center tracking well south of the island.
Another item to note is that the maximum sustained winds have decreased since yesterday. In our report on Tuesday it was noted that maximum sustained winds were 70 mph (where a hurricane is considered 74 mph or higher), whereas maximum sustained winds right now are at 60 mph. The storm has also picked up speed, heading westward at 21 mph versus 16 mph yesterday. Higher speeds mean the storm passes more quickly.
Hopefully Isaac continues to weaken over the next several hours, before it reaches the Lesser Antilles as forecasted sometime around midday on Thursday.
Show your support for Saint Martin/Sint Maarten! Proceeds go directly to assist local residents and communities on the island.
Here is the complete advisory issued by the National Hurricane Center (or click here):
CHANGES WITH THIS ADVISORY:
The government of France has issued a Tropical Storm Watch for
St. Martin and the government of St. Maarten has issued a
Tropical Storm Watch for St. Maarten.
SUMMARY OF WATCHES AND WARNINGS IN EFFECT:
A Tropical Storm Warning is in effect for…
* Martinique
* Dominica
* Guadeloupe
A Tropical Storm Watch is in effect for…
* Antigua
* Montserrat
* St. Kitts and Nevis
* Saba and St. Eustatius
* St. Martin and St. Maarten
A Tropical Storm Warning means that tropical storm conditions are
expected somewhere within the warning area within 24 to 36 hours.
A Tropical Storm Watch means that tropical storm conditions are
possible within the watch area, in this case within 24 to 36 hours.
Interests elsewhere in the Leeward Islands should monitor the
progress of Isaac.
For storm information specific to your area, please monitor
products issued by your national meteorological service.
DISCUSSION AND OUTLOOK
———————-
At 200 PM AST (1800 UTC), the center of Tropical Storm Isaac was
located by a NOAA Hurricane Hunter aircraft and satellite near
latitude 15.1 North, longitude 55.7 West. Isaac is moving faster
toward the west near 21 mph (33 km/h), and this general motion with
a decrease in forward is expected to continue through the weekend.
On the forecast track, Isaac is forecast to move across the central
Lesser Antilles and into the eastern Caribbean Sea on Thursday, and
then move across the eastern and central Caribbean Sea through
Saturday.
Aircraft data indicate that maximum sustained winds remain near 60
mph (95 km/h) with higher gusts. Gradual weakening is forecast
during the next 72 hours.
Tropical-storm-force winds extend outward up to 175 miles (280 km),
primarily to the north of the center.
The estimated minimum central pressure based on the aircraft data
is 1002 mb (29.59 inches).
HAZARDS AFFECTING LAND
———————-
RAINFALL: Isaac is expected to produce total rainfall accumulations
of 2 to 4 inches with isolated amounts up to 8 inches across
Martinique, Dominica, and Guadeloupe. Rainfall of 1 to 2 inches
with isolated amounts to 4 inches are forecast across Puerto Rico
and the southern United States Virgin Islands, with up to an inch
anticipated across the remaining Windward and Leeward Islands. This
rainfall may cause life-threatening flash flooding.
WIND: Tropical storm conditions are expected on Martinique,
Dominica, and Guadeloupe early Thursday. Tropical storm conditions
are possible within the tropical storm watch area on Thursday.
STORM SURGE: Some coastal flooding is possible in areas of onshore
winds. Near the coast, the surge will be accompanied by large
waves.
SURF: Swells generated by Isaac will begin to affect portions
of the Lesser Antilles this afternoon. These swells are likely to
cause life-threatening surf and rip current conditions. Please
consult products from your local weather office.